Gen Z often have their heads bowed. Not out of respect but to silently attend to conversations, posts and tik-toks that whizz across their mobile devices throughout the day. Nor is it just Gen Z. Insta has made my partner unable to experience a landscape, building, quirky shop front, cute dog or perfect cup of coffee, without sharing a curated image of the event with her followers.
Which is why the whole shape of customer service and support is changing. The experience and engagement we expect from our favourite brands has to fit into this new world. The days of telephone or email customer support are disappearing fast and being replaced by rapid, personalised support in the form of 'conversations' that can take place in messaging channels of their choice, not yours.
The benefits should not be underestimated. 70% of consumers now expect conversational experiences and 59% of businesses are planning to make investments in AI technology in 2022. The benefits can be measured in the form of growth in sales, through improved CX and reduced cost per productive hour of providing support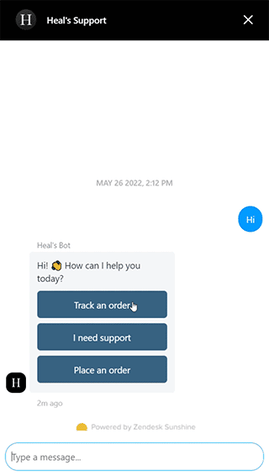 Many organisations are only just getting their heads around reliance upon telephony-centric, contact-centre solutions. Consolidation around single platforms capable of being omni-channel has begun to happ
en at a greater pace. But even in these instances, the pace of technological change may still leave them incapable of reaping the full benefits of conversational support and AI in the short to medium term.
Zendesk addressed this issue by acquiring Smooch in 2019. Relaunched as Sunshine Conversations (SunCo), the platform allows organisations to stay connected throughout a customer's journey.
On the one hand, it provides unified messaging across a multitude of channels. Whilst on the other hand, it can surface data from other systems such as CRM, order management and inventory. When combined with chatbots like Ada or Ultimate AI, with machine-learning and natural language processing capabilities, it can evolve to deliver true customer-self management and zero-touch resolution.
For more forward thinking organisations that recognise the role of CX in growing sales and profitability, Zendesk's SunCo enables conversations to be orchestrated across sales functions, support desks and third party fulfilment partners, providing a single view of the customer, at any stage of the journey. Furthermore, integration with other applications can broaden the scope of this zero touch resolution and self-management, such as for tracking orders, booking seats or other previously Agent driven interactions.
In short, the next phase of CX evolution has begun and is already playing a part in defining the success (or failure) of brands in the modern world. If you would like to find out more about Zendesk, Sunshine Conversations and chatbot technologies, arrange a 1:1 consultation at your convenience by following the link.